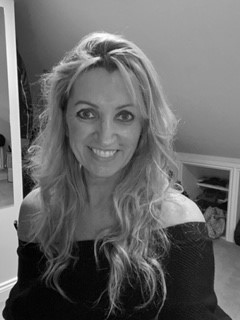 MY LOCKDOWN Skincare Survival Guide.
The easiest & most cost effective way to come out of lockdown looking & feeling your best. Here are my top tips I picked up from all over the globe from industry experts, during my many years in the beauty industry, from modelling to launching my own skin care brand.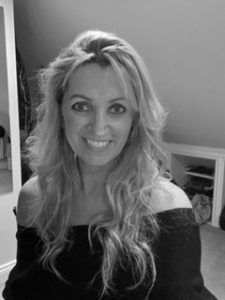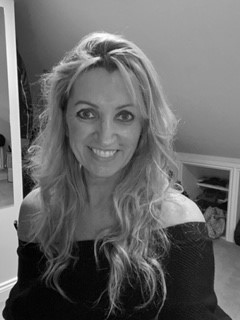 GILLIAN ROBSON Co-founder of Tancream
"IF ONLY I HAD BEEN TOLD TO USE A DAILY MOISTURISER WITH SPF IN!"
Hi everyone, hope you are all staying fit & well. As many of you will already know prior to launching Tancream in 2017, I was a model & owned my own beauty business for many years and had the privilege of working alongside some fantastic people from all over the world. As my lifestyle changed daily I had to maintain my own skin & hair care routine & find out what worked for me on a budget.
My first learning curve was to always drink plenty of water & eat healthily, a little & often suited me to keep up my energy levels ready for many hours in front of the camera, it also kept my skin looking it's best. It always included VIT C for my immune system (which is very important for us all at the moment) VIT A, D, E & folic acid.
*****
MIND
"IF ONLY I HAD BEEN TOLD TO USE A DAILY MOISTURISER WITH SPF IN"
A positive mindset is so important in life & to get this I feel comes from diet & exercise. If you feel good then your mind follows. I have always tried to fit in some exercise into each day & to get a good balance over the week & now that we are indoors more, there are some fabulous ones online & the good thing is you can do it at your own pace & no-one can see you so it's a great way to kick start some exercise into your life if you don't already. I love a good combination of exercise as well as some Pilates, so it's a feel good all round. I have come across Busy Woman Business by Nina Lancaster (on Facebook) & she does them all online she has a great bootcamp going that I have joined, I'm certainly not the fittest but what is great is she shows every level so you can choose your own ( I still haven't mastered the burpees but its work in progress.) https://www.busywomenfitness.co.uk/
I have read lots of books about focusing the mind & body over the years but a great book collection to read at the moment as recommended by my business partner Katy & daughter Francesca are the ones here by Fearne Cotton: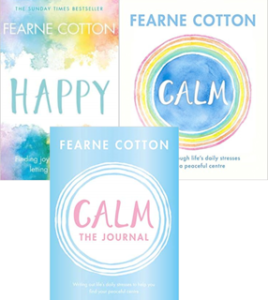 I have always been a positive person & turned a negative situation around – even during these tough times in isolation all I keep thinking is that the world was going too fast for everyone & we needed to slow down, reasess things especially our 'work life' balance. What is more important in life than 'our health'? Look how many people are rallying around & supporting each other.
I have always had great respect for the NHS as during my own skin cancer journey they have always looked after me & I like so many owe my life to them. They are trully incredible people & we should be so very proud of each & everyone of them. They make us proud to be British.
https://www.amazon.co.uk/fearne-cotton-Books
*****
NAILS
VIT B-complex (Biotin) Folic acid & VIT C are great to strengthen your nails – then applying a nail strengthener daily & wearing gloves when washing up so your nails don't weaken.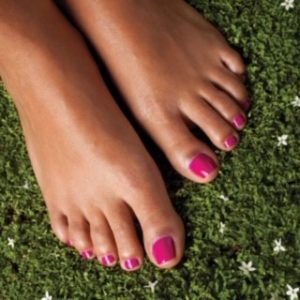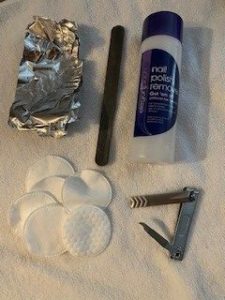 If you have been left with Gel nails on as I was after lockdown then my survival kit looked like this – Acetone nail polish remover, nail file, clippers, cotton wool pads & kitchen foil – if you have all of this to hand… here's what to do!
If you slightly rub the shiny polish off all your nails with the nail file, then soak the cotton wool with the nail polish remover & lay over the nail bed, push it into the nail then wrap the foil tighly around the nails – leave for 10 minutes – then using the blunt end of the nail file on the clippers rub the polish off & buff with the file – do each one individually – once they have all been removed shape & file the nails & paint them. OPI is what I have used for years, the start & finish is a great one as it can be used as a base & top coat – so great value & a fabulous product – I bought mine from Amazon. Make sure you give your nails plenty of time to dry, a good time to apply is on an evening when everything is done & you are having ME time.
TOP TIP pour yourself a drink beforehand so you're not tempted whilst your nails are wet.
It's essential to wash your hands regularly to avoid any spread of bacteria, but don't forget to use a handcream afterwards as well to keep them hydrated – a good tip is on an evening to apply your favourite handcream whilst watching TV so you can use your anti-bacterial handwash throughout the day.
"IF ONLY I HAD BEEN TOLD TO USE A DAILY MOISTURISER WITH SPF IN"
*****
HAIR
Biotin is a great vitamin.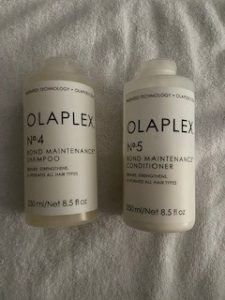 I was recommended this product just recently by a friend who is a hairdresser to give my hair some bounce & I love it – however it is quite pricey – so I do use L'Oreal Elvive mostly, especially through lockdown as I'm not using a hairdryer on it as much, which I must say is really working & my hair is looking very healthy.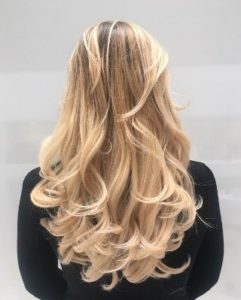 I always do my own colour – dare I admit I haven't been to the hairdressers for years – I use Schwarzkopf Igora Royal 8.0 with 9% Igora royal developer – again you can buy it on Amazon. If you give your hair a good brush through first & then divide it into 4 sections – following the line from between your eyes & split your hair as if you were doing bunches then follow from the top of your head behind the ears so you have 4 sections, clip into place then starting at the back sections work across from line to line towards the nape of the neck & apply the colour. Do each section then go onto the front two. Once all roots are covered, slightly massage the roots in case you have missed any – do not put on the mid length & ends as it will over process the hair & cause damage. Leave for around 30 minutes – a great time to pop some washing in or do a bit of ironing.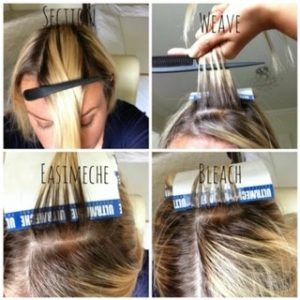 If you have highlights, then a good way to survive until your next hairdresser visit, is to colour your T-bar section (around your hairline at the front & down your centre parting). Using a tail comb to weave out a few fine strands of hair, put some easi meche or kitchen foil underneath & put the colour onto the foil & wrap it up – do a few lines down & around the hairline – leave for about 30 minutes then shampoo off.
Tips – try not to use a hairdryer during lockdown & once a week leave your conditioner on for about ten minutes (always put conditioner on your mid length & ends not on your roots as your hair will go greasy quicker, its great to do this in the shower whilst you are shaving your legs etc.)
When rinsing the colour off do make sure you tip your head back so the diluted colour & water don't go into your eyes.
"IF ONLY I HAD BEEN TOLD TO USE A DAILY MOISTURISER WITH SPF IN"
*****
BODY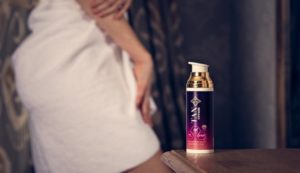 I love to feel totally refreshed after a shower so after shaving my legs/under arms & bikini line using shaving gel & a ladies gillete razor (again buy online from Amazon) I have been loving exfoliating my skin during lockdown. This is something I don't have time for usually – hence why I didn't have any at home so I made my own! I used brown sugar, olive oil & a few drops of some essential oil that I had left over – it was fab & did the trick, gave my skin a boost & it felt very fresh afterwards.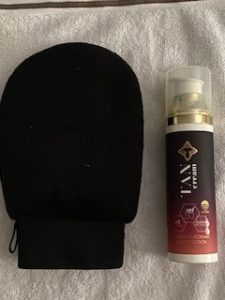 After my body boost – this is the time that I love to give my hair a good towel dry & comb through then wrap a towel round it as I apply my favourite product to my face & body. Yes its my own product Tancream, it is so hydrating & has everything all in one bottle & so easy to apply, I use it as my daily morning moisturiser to give me that sun protection & a nice healthy glow then after showering in the evening I use it again all over to maintain that warmth & hydration to my skin as it doesn't dehydrate my skin like lots for other tanning products.x
I use a little mitt to apply it on my face & a larger mitt to apply on my body – then I don't need to wash my hands – a great tip for holidays as well around the pool & on the beach (we long for those days again but in the meantime lets get practicing our application skills)
"IF ONLY I HAD BEEN TOLD TO USE A DAILY MOISTURISER WITH SPF IN"
*****
FACE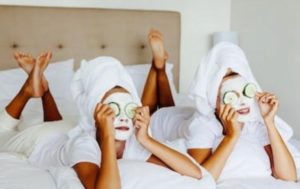 Face masks are always a great skin booster. One I used to make myself was honey & lemon juice mixed together then applied a slice of cucumber over my eyes. (Cucumbers are fab at freshening your eyes something I still use now). There are loads of different face masks on the market & you need to choose the right one for your skin type ie: do use an oily one for oily skin. You can pay from as little as £3 to £300!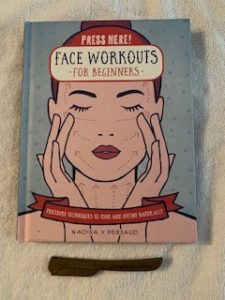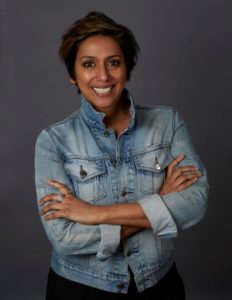 A great time to look after your skin. I have come across a great book that has recently been launched by a fabulous make up artist in London. It has some great tips on face exercises, do try them they really work.
https://www.amazon.co.uk/Press-Here-Face-Workouts-Beginners
Another fab little tool that I have come across is the Hollywood Browzer its great for removing facial hair & gives your skin a slight exfoliation or dermaplaning prior to using Tancream
Obviously my ultimate daily moisturiser is Tancream as it has everything all in one bottle:
SPF50
5 star UVA sun protection which is a 'must' for your daily skin care
An instant bronzer which is a really good guide to application
A natural gradual self tan that develops after 2-3 hours
A hydating moisturiser which makes it so easy to apply, so makes it streak free
Anti-ageing
Fragrance free
Scientifically proven & dermatology endorsed
Cruelty free
Paraben free
Face & Body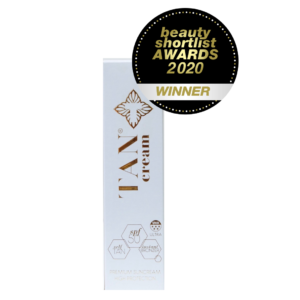 *****
IF ONLY I HAD BEEN TOLD TO USE A DAILY MOISTURISER WITH SPF IN
YES if I could turn back the clock to my 18 year old me, one thing I would tell her is to always wear SPF as a daily moisturiser, then I wouldn't have had to go through skin cancer as 86% is preventable if we wear it!
However the positive side is my journey would have been very different indeed & I would not have met the incredible people I have & I would not have Tancream in my life.
I have always surrounded myself with great people, people that will share my positivity to make us all smile when things are tough, turn sadness into laughter, tricky situations into easier ones, turning negative situations into positive ones – we all have those special people as well as our families to do that with – Katy is my perfect friend & business partner. We support each other.
We have gone from spending almost everyday with each other to having facetime calls everyday during these crazy times. Life does go on & we must continue to turn this negative situation into a positive – keep smiling, keep laughing & keep positive – but most of all keep healthy & stay healthy.